Painted & Stenciled Windsor Deacon's Bench
Item #: AF1314
Description: Painted and stenciled bench topped with a shaped top rail and a plain lower rail supported by turned spindles. Shaped, single board seat. Arms deeply curved, flat-sided, and thick, with scroll shaped handholds. Short spindles and round stile with painted rings support each arm. 4 front legs ring turned and tapered, 4 back legs plain turned. Legs joined by turned stretchers.
Materials: Various painted woods.
Dimensions: Height: 32-1/4", 16-1/2" seat. Width: 77". Depth: 22".
Locality and Period: Throughout the United States. c.1840-60.
Comments: Country furnishings like this bench derive decorative variations from Sheraton fancy painted chairs and Windsor designs.
Price: $695.00



Antique Victorian Rococo Revival Walnut Upholstered Seat Side Chair
Item #: AF1647
Description: Side chair with balloon-shaped back having carved top and middle rails. Front legs simple and cabriole, plain rear legs. Padded and upholstered seat.
Materials: Walnut. Padded & upholstered (replaced) seat.
Dimensions: Height: 34", 18" seat. Width: 17". Depth: 18".
Locality and Period: Throughout the United States. c.1870.
Comments: Small side chairs with "balloon backs" evolved from earlier Empire models with similar curved backs and floral carvings.
Price: ***SOLD***



Vintage Windsor Style Deacon's Bench in "Bittersweet" Paint
Item #: AF1547
Description: Deacon's bench in "bittersweet" color paint with shaped seat back top rail. Turned back spindles. Shaped arms. Turned Legs and stretchers. Manufacturer's model number and production date (AUG26 1959) stenciled on seat bottom.
Materials: Painted Maple.
Dimensions: Height: 29-1/2" ,18" seat. Width: 59-1/2". Depth: 20".
Locality and Period: American. c.1959.
Comments: Desirable "Bittersweet" paint color. Use in entryway, hall or porch seating.
Price: ***SOLD***


Antique Carved Oak Church Pew
Item #: AF1646
Description: Small 2 person church pew with curved arms having carved decoration. High seat back with carved top rail. Side panels having shaped and carved details. Molded Feet.
Materials: Oak.
Dimensions: Height: 35". Width: 44-1/2". Depth: 23".
Locality and Period: Likely Grand Rapids. c.1890-1910.
Comments: Nice 2 person size pew for use in entry, hallway or for extra seating. Solid construction with desirable carved decoration.
Price: ***SOLD***


Primitive Country Windsor Side Chair c.1850
Item #: AF1643
Description: Side chair having a solid curved top rail, turned stiles and spindles. Shaped, single board seat. Turned legs and stretchers.
Materials: Hardwoods.
Dimensions: Height: 37", 16" seat. Width: 16-1/2". Depth: 16".
Locality and Period: c.1850.
Comments: Solid example of country adaptation of the Windsor chair.
Price: ***SOLD***


Antique Victorian Fancy Wicker Chair (attributed to Heywood Wakefield)
Item #: AF1605
Description: Side chair having a solid wood frame with intricate wicker designs. Upholstered needlepoint seat (replaced).
Materials: Wood frame. Wicker covering. Upholstered seat.
Dimensions: Height: 39-1/2", 17" seat. Width: 16-3/4". Depth: 16".
Locality and Period: Massachusetts. c.1890.
Comments: Attributed to Heywood Wakefield with evidence of label and design similarities to know pieces. No damage or losses to the fancy wicker work.
Price: $95.00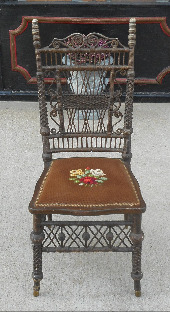 Fancy Painted & Stenciled "Hitchcock" Style Rush Seat Chair
Item #: AF1517
Description: Painted side chair with turned top rail having stenciled center panel flanked by ring turnings. Horizontal slats, upper one shaped and stenciled. Stiles cut flat in upper section, rounded and ring turned at seat level. Front legs turned in ball-and-ring pattern with gold details and connected with turned stretcher terminating in ball feet. Plain turned back legs connected to front legs with plain turned stretchers. Woven rush seat.
Materials: Painted hardwoods. Rush seat.
Dimensions: Height: 34-1/2", 17-1/2" seat. Width: 17-1/2". Depth: 18-1/2".
Locality and Period: Throughout the United States. c.1876-1925.
Comments: Painted and stenciled Sheraton style chairs in the "Hitchcock" design were popular during the U.S. Centennial (1876) period through the Colonial Revival (1925) era. In excellent condition with a finely woven rush seat.
Price: ***SOLD***


French Style Ormolu Decorated Upholstered Side Chair
Item #: AF1369
Description: Side chair with padded upholstered seat. Seat back with shaped splat, C-scroll stiles and ormolu decorated top rail. Plain seat skirt with ormolu decoration on front. Tapered out-swept french legs on front, tapered back legs continuation of stiles.
Materials: Mahogany. Ormolu decoration. Modern seat upholstery.
Dimensions: Height: 36", seat 17-1/2". Width: 18". Depth: 20".
Locality and Period: Unknown maker. c.1900-25.
Comments: Nice modern upholstery. Solid construction.
Price: ***SOLD***