Antique Sea Captain's Slant-top Chest & Desk

Item #: G4930
Description: Hinged slant-top chest that opens to reveal desk compartment. Upper area having ink well holders, writing material and pen holders. Large lower storage compartment. Lid having wooden straps to secure maps and documents. Iron corner straps. Brass lock clasp. Carved bracket feet

Materials: Teak. Iron straps. Brass clasp.
Dimensions: Height: 13-1/4". Width: 23". Depth: 16".
Locality and Period: American. c.1870.
Comments: Dense teak wood construction to withstand the rigors of seafaring life.
Price: ***SOLD***


Vintage "Incolay Stone" Cameo Carved Jewelry Box

Item #: G4905
Description: Hinged top jewelry or dresser box made of "Incolay Stone" in shades of green, amber and caramel. Lid having a cameo carving central cartouche with semi-nude woman and cherubs. Interior box bottom lined with velvet.

Materials: Molded "Incolay" stone. Brass lid hinge.
Dimensions: Height: 3". Width: 11-1/2". Depth: 4-1/2".
Locality and Period: California. c.1970.
Comments: Incolay Stone was made from a variety of crushed stones or minerals including Onyx, Malachite, Carnelian, Jade, etc. The stone or minerals were crushed and ground into an aggregate, which was added to their coupling agents.
Price: ***SOLD***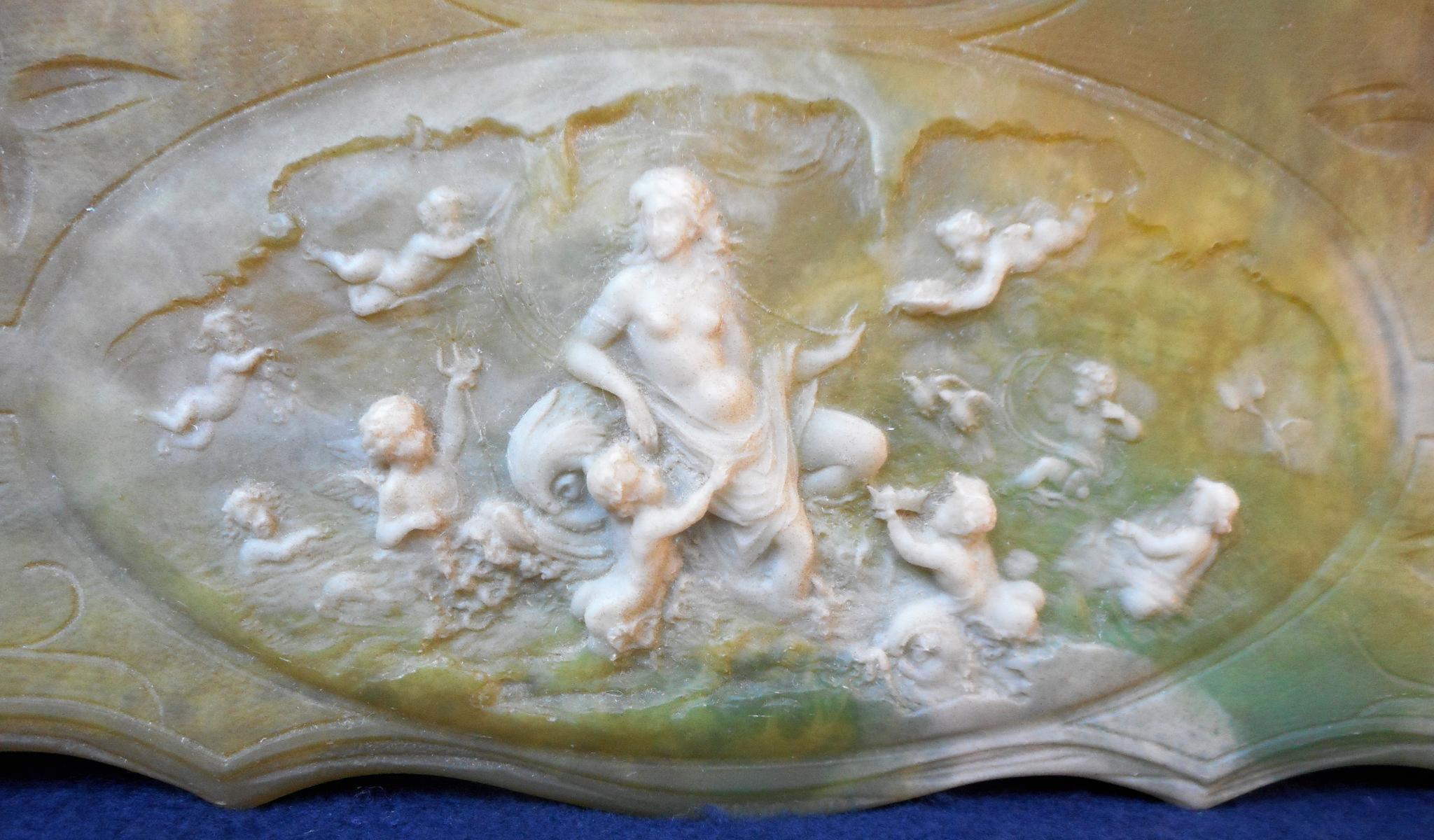 Old Rosewood Artist's Field Box & Contents

Item #: G4812
Description: Hinged top rosewood box with brass handle and latch. Removable upper tray. Contents include 11 artist's brushes, 2 pallet knives, sketching pencil, eraser, razor, mixing tray and 9 paint tubes (some still viable).

Materials: Rosewood box. Brass hardware.
Dimensions: Height: 7". Width: 11-1/2". Depth: 7".
Locality and Period: Unknown maker. c.1950.
Comments: Nice compact artist's box with supplies for field or studio use.
Price: ***SOLD***


Early Primitive Solid Cherry Sugar Box
Item #: AF1596
Description: Diminutive sugar storage box with single board hinged lid. Single board front, back, bottom and side board construction. Shaped skirts on front and side panels. Corner stiles terminate in tapered feet.
Materials: Cherry. Iron hinges.
Dimensions: Height: 13". Width: 25". Depth: 11".
Locality and Period: Kentucky & Southern U.S. c.1825-50.
Comments: Rare diminutive size in comparison to full sized sugar chests..
Price ***SOLD***


Primitive Pine "Fiddle Case" in Old Blue Paint
Item #: G4246
Description: Painted pine box with fitted lid to house a fiddle and bow.
Materials: Painted pine.
Dimensions: Height: 9-3/4". Width: 26". Depth: 4-3/4".
Locality and Period: Found in Missouri. c.1880.
Comments: Very unusual piece in nice old original blue milk paint finish. Showing wear and some paint loss.
Price: $59.00


English Regency Rosewood Letter Box
Item #: G2952
Description: Canterbury style letter box with open sides. Hinged, locking lid with 2 slots adorned with engraved mother-of-pearl inlay, one for "Answered" letters and the other for "Unanswered" letters. Box stands on four turned bun feet and is topped with a lovely turned handle. Complete with a working key.
Materials: Rosewood. Mother-of-Pearl inlays. Brass hinges & lock.
Dimensions: Height: 6-1/4". Width: 10-3/8". Depth: 5-5/8".
Locality and Period: England. c.1810-20.
Comments: Used to organize household correspondences, this rare gem crafted in distinctly grained rosewood remains in very good condition.
Price: $595.00 NOW: $395.00


Green Painted Primitive Wooden Tool Box
Item #: G2498
Description: Wooden tool box with hinged drop front revealing 2 drawers and tool storage area. Old olive green paint.
Materials: Various woods. Iron hinges and handle. Porcelain drawer pulls.
Dimensions: Height: 15-1/2". Width: 20-1/4". Depth: 8-3/4".
Locality and Period: Found in Missouri. c. 1900.
Comments: One of a kind hand made tool box with old green paint.
Price: $169.00


Unique Concave Side Jewelry or Trinket Box
Item #: G2824
Description: Hinged wooden box with concave sides. Incised carved lid with Eastlake style geometric design opens to reveal single compartment for jewelry or trinkets. Painted "faux" inlaid key escutcheon..
Materials: Wood. Brass hinges.
Dimensions: Height: 3-1/4". Width: 11". Depth: 9-1/2".
Locality and Period: Throughout the U.S. c. 1885.
Comments: Unusual concave sides with nice carved details and charming hand-painted key escutcheon.
Price: ***SOLD***



Automaton Musical Tantalus Liquor Set
Item #: G2499
Description: Miniature liquor cabinet in the form of an organ or upright piano, likely built in Switzerland or Austria probably for the British market circa 1925. The cabinet is automated and musical, the key to wind the music box is found above the decanters. Press gently on the center of the keyboard to start one of the two Airs. As the music plays, the cabinet doors automatically open, and the glazed lid springs open. The cabinet houses 2 original acid etched decanters with original stoppers, complimenting the eight small glasses held in a removable caddy under the glass lid.The two Airs are listed on the paper label on the underside, "Tea for Two, Fox Trot & Mon Coeur (My Heart), Chanson".
Materials: Rosewood cabinet. Brass hardware. Glass doors. Crystal decanters & glasses.
Dimensions: Height: 12". Width: 9-1/2". Depth: 6".
Locality and Period: Switzerland or Austria. c.1925.
Comments: A rare and unusual find in excellent working order.
Price: $2,900.00


Hand Dovetailed Cherry Bible Box
Item #: G3129
Description: Overhanging locking (no key), hinged lid with support chain opening to reveal a spacious interior. Single board sides hand dovetailed at the corners. Molded skirt (replaced) scroll cut to form feet. Brass handles on sides. Materials: Cherry. Pine secondary. Brass hardware.
Dimensions: Height: 9-1/2". Width: 20". Depth: 10-3/4". Interior 17-1/2"w X 9"d X 7-1/2"h.
Locality and Period: American. c.1830.
Comments: Old box with some contemporary replacements and finish.
Price: $195.00


Rosewood English Tea Caddy
Item #: G2047
Description: X
Materials: X
Dimensions: Height: 5". Width: 9-3/4". Depth: 5-1/2".
Locality and Period: X
Comments: X
Price: $395.00


American Figured Mahogany Lap Desk
Item #: G2212
Description: Rectangular hinged box that opens to a slope writing surface. Interior compartments to store stationery and accoutrements. Drawer on side for additional storage.
Materials: Figured mahogany veneers and solids. Pine secondary. Brass hardware.
Dimensions: Height: 8". Width: 22". Depth: 11" closed, 22" open.
Locality and Period: Major East coast center. c. 1790-1810.
Comments: Rare American example of an English classic form.
Price: $295.00