Folk Art Hand Painted 6 Foot 2 Man Buck Saw
Item #: G4586
Description: 6 foot antique hand painted with farmstead landscape.
Materials: Painted metal saw. Wood handles. Signed by artist "D. Dennis".
Dimensions: Width: 72".
Locality and Period: Found in Missouri.
Comments: Lovely wall hanger with colorful farmstead landscape scene.
Price: ***SOLD***



Folk Art Model Church or Meeting House
Item #: G4209
Description: Model of church or meeting house with faux brick siding. Miniature simulated stained glass windows.
Materials: Wood.
Dimensions: Height: 19-1/2". Width: 20-1/4". Depth: 28".
Locality and Period: Found in Missouri. c.1900.
Comments: Detailed model of an old time church or meeting house.
Price: $150.00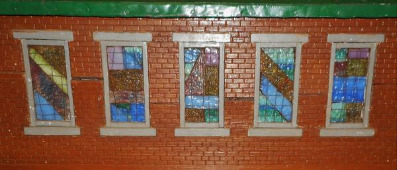 Americana Folk Art Carved Wood Figure of President Andrew Jackson
Description: Life-size wood carving of Andrew Jackson depicted in the pose from the figurehead of the U.S.S. Constitution, the original being carved in 1834 by Laban S. Beecher. The figure measures 73" tall, 84" including the base. President Jackson was acquired from an estate in Kansas City that was being liquidated by grandchildren whom had only sketchy provenance of how and when their "Grandpa" acquired the carving. The family story was that they believed it to be a cigar store figure advertising "Old Hickory" cigars and was purchased from a Kansas City Tobacco store in the 1920-30's by the grandfather.
Materials: Carved wood. Polychromatic paint.
Dimensions: Height: 84" including base, 73" figure. Width: . Depth: .
Locality and Period: circa 1900.
Comments: Recent stories have chronicled the long-lost and now found jaw of the beheaded original, see following link:
http://www.nytimes.com/2010/04/05/nyregion/05jackson.html?_r=1
Price: $4,250.00


Carved Missouri Folk Art Table by Nathan Ed Galloway
Item #: AF1088
Description: High relief hand carved table fashioned from a single tree trunk. Round top inlaid with mother of pearl, walnut, pine and oak decoration. Base & legs adorned with detailed carvings of grape bunches, vines, grape leaf, caterpillar and butterflies.
Materials: Walnut. Mother of pearl, walnut, pine & oak inlay. Pocelain casters (removable).
Dimensions: Height: 33-1/2" (with casters), 32" (without casters). Width: 28-1/2". Depth: 28-5/8".
Locality and Period: Hootontown, Missouri. December 1912.
Comments: Nathan Ed Galloway was born near Springfield, Missouri in 1880. When he was a teenager, Ed joined the U.S. Army and fought in the Spanish-American war in 1898. Ed returned to Springfield after leaving the Army and pursued his woodcarving. His focus was on creating household objects, such as hall trees and smoking stands. He also fashioned many large-scale items from tree trunks. These large-scale creations were decorated with human and animal figures. Ed had planned to show off his works of art at the Panama-Pacific International Exposition taking place in San Francisco in 1915. Unfortunately, most of his work was destroyed by a fire at his studio before he could display it. Galloway managed to salvage a few pieces and began making his way west toward California for the exposition. As fate had a different hand for Ed, he never made it. Charles Page, a wealthy businessman and philanthropist, saw Ed's work and was greatly impressed by it. Charles offered Ed a job teaching woodworking to the boys at the Sand Springs orphanage home. Ed took the job, and remained in Sand Springs as a teacher for the next twenty-plus years.Nathan Ed Galloway died of cancer on November 11, 1962.
Price: ***SOLD***