Antique "Rowsell's Graphoscope" Stereoscope Viewer
Item #: G4756
Description: .
Materials: Mahogany. Brass hardware. Glass lenses.

Dimensions: Height: 4-3/4". Width: 9-3/8". Length: 15-3/4".
Locality and Period: .England. c.1875.
Comments: Based on the 1864 patent of Charles John Rowsell. This model is the stereoscope, not including the mono-lense. Sold by "Murray & Heath, Jermyn Street, London"
Price: $295.00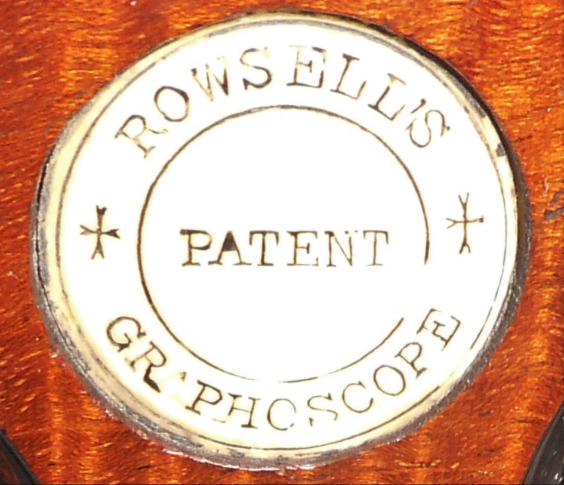 Antique Taxidermy Turtle Pin/Trinket Copper Tray
Item #: G4867f
Description: Taxidermy turtle with copper pin/trinket tray in top shell.
Materials: Taxidermy turtle. Copper tray.
Dimensions: Height: 1-7/8". Width: 4". Depth: 6-7/8".
Locality and Period: Found in Missouri. c.1900.
Comments: Professional grade taxidermy work in excellent, complete condition with copper tray in top shell.
Price: $149.00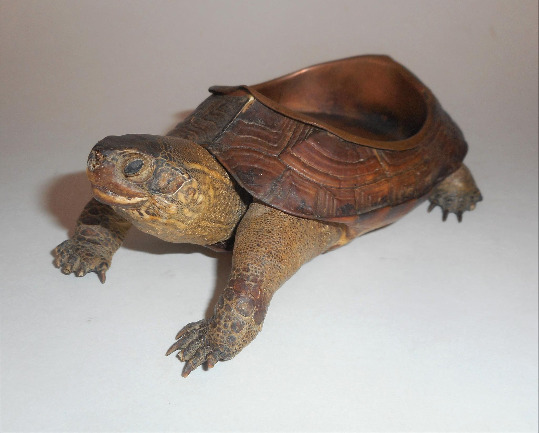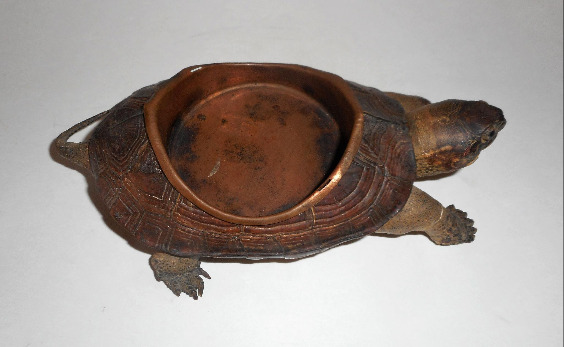 Circa 1930's "Penny-Pack" Trade Stimulator Reel Slot Machine by Daval Manufacturing Company
Item #: G4798
Description: Trade stimulator that operates in the manner of a reel slot machine by inserting a penny and pulling down the arm. The mechanical reel roller stops aligning icons of cigarette packs that relates to the winning combination. Each penny inserted also allows the player to receive a gumball. Original paint and graphics.
Materials: Cast metal case. Original paint. Original working interior mechanics.
Dimensions: Height: 10-3/4". Width: 10". Depth: 8-1/2".
Locality and Period: Daval Manufacturing Company, Chicago. c.1930's.
Comments: Fun, operating trade stimulator that was found in general stores, saloons and drug stores to keep customers in the establishment longer.
Price: $595.00


Vintage Western "Cosmic Flyer" 26 Inch Boy's Bicycle c.1960's
Item #: G4877
Description: Incredible original condition paint, tank, chrome, seat, handlebars, grips, fenders etc. Missing the tank front headlamp.
Materials: Metal frame. Chrome. Rubber.
Locality and Period: American. c.1960's.
Comments: Can you imagine being the lucky kid that woke up to this bike on Christmas morning.
Price: ***SOLD***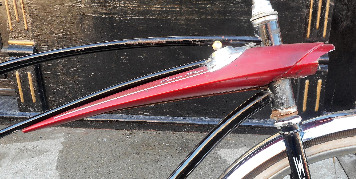 Country Store Oak 7 Drawer Thread Spool Cabinet
Item #: G4849
Description: Oak cabinet with 6 removable glass front drawers. Bottom drawer with oak front and lion's head brass pulls.
Materials: Oak cabinet. Glass front drawers. Brass pulls.
Dimensions: Height: 18-1/2". Width: 20-1/4". Depth: 17-1/4".
Locality and Period: American. c.1890.
Comments: Original use as a country store, counter top display for selling thread spools. Perfect for storing and displaying your collections: jewelry, pocket knives, stamps, sports cards, coins, purses, pocket watches etc. Each removable drawer measures 17-5/8" wide X 15-3/8" deep.
Price: ***SOLD***


Antique Lemaire Mother-of-Pearl Opera Glasses & Original Leather Case
Item #: G4662
Description: Opera glasses with gold tone brass and mother-of pearl construction. Marked "Lemaire Paris". Original leather carry case with maker's mark on inside lid.
Materials: Brass. Mother-of-Pearl. Glass optics.
Dimensions: Height: 3-1/4" (in case). Width: 5" (in case). Depth: 2-1/2" (in case).
Locality and Period: Paris. c.1890.
Comments: Good optics. Near perfect condition with nice original leather case.
Price: ***SOLD***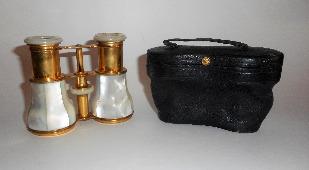 Antique Gentleman's Stack Leather Walking Stick
Item #: G4623
Description: Iron core walking stick wrapped in stacks of leather rings. "Swan's Neck" shaped handle with horn tip. Braided leather and brass cap tip.
Materials: Iron core, leather, horn tip handle, brass cap.
Dimensions: Length: 36".
Locality and Period: American. c.1870-90.
Comments: Sturdy iron core cane with dramatic "Swan's Neck" handle terminating with horn tip.
Price: ***SOLD***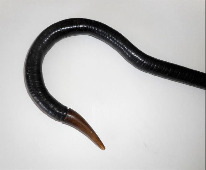 Antique Archarena 2 Sided Carrom Game Board with Nation's Flags Graphics
Item #: G4602
Description: Wooden game board having netted pockets on the corners. Side 1: Nation's Flags polychromatic graphics and pegged center Carrom game. Side 2: Checkers/Chess board. Original maker's decal on side rail. 40 multi-colored game discs included.
Materials: Wooden board. Painted and applied graphics. Wooden game discs.
Dimensions: Height: 28-1/2". Width: 28-1/2".
Locality and Period: Ludington, Michigan. c.1907.
Comments: Stunning polychromatic graphics in excellent condition. Can be displayed as art when not being played.
Price: $125.00


Antique Room Size 13' X 9'-10" Oriental Rug
Item #: G4524
Description: Large, hand woven rug in vibrant blue, red, tan, gold, cream and yellow geometric patterns, edged in deep blue with a beige fringe.
Materials: Dyed wool.
Dimensions: Length: 13'. Width: 9'-10".
Locality and Period: Unknown maker. c.1900,
Comments: Rich colors in vibrant geometric patterns. No condition problems.
Price: ***SALE*** WAS: $695.00 NOW: $500.00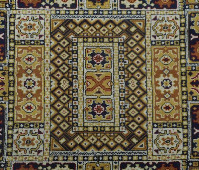 Tall Antique Wood & Cast Iron Coffee Grinder
Item #: G4344
Description: Coffee grinder in wooden box with finger joined corners. Cast iron grinder mechanism with cast iron crank having a hardwood knob. Cast iron side handle. Wood catch drawer below.
Materials: Wood. Cast iron.
Dimensions: Height: 12-1/2". Width: 8". Depth: 7".
Locality and Period: Unknown manufacturer. c.1890.
Comments: Clean working condition for grinding your morning coffee beans.
Price: $105.00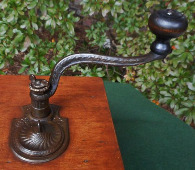 Victorian Tooled Leather Photo Album with 41 Photos
Item #: G4122
Description: Small tooled leather photo album with white glass decoration. 41 various photos including several tin types and many photos of Victorian families with babies and children.
Materials: Leather album cover. Various photo types.
Dimensions: Height: 5-1/2". Width: 4-1/4".
Locality and Period: Throughout the United States. c.1870.
Comments: Many wonderful early photographic images.
Price: $125.00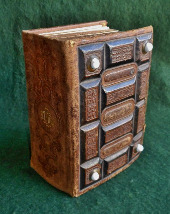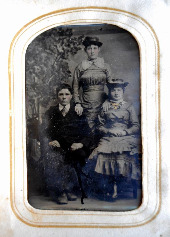 South Bend No.359 Split Bamboo 8-1/2' Fly Fishing Rod
Item #: G4151
Description: 4 piece split bamboo fly fishing rod having 2 tippets (1 repaired). Cork grip with patented "Comficient Grip" and metal reel seat and rings. Patent # 1,931,303 on grip (1933). Cloth sock and metal tube case.
Materials: Split bamboo. Cork grip. Metal ferrules and reel seat.
Dimensions: Length: 8-1/2'.
Locality and Period: South Bend, Indiana. c.1933.
Comments: Nice rod from the "Golden Age" of fly fishing with original protective cloth sock and metal tube case.
Price: $125.00



Weber Costello 18" Globe & Stand Circa 1925
Item #: G3025
Description: 18" world terrestial globe in walnut stand. Coated paper gores by G.W. Bacon & Co. Ltd., over plaster. Oceans in light pea green with ocean currents and analemma. Cast iron full ring merridian laid into cradle in walnut floor stand with horizon ring. Time dial at North Pole. Shows Constantinople (pre-1930) rather than Istanbul. Shows Oslo as capital of Norway (1925 on), but no Central Australia (1926) thus placing date at circa 1925.
Materials: Paper over plaster globe. Walnut floor stand.
Dimensions: Height: 39". Width: 23". Depth: 23".
Locality and Period: Chicago. c.1925.
Comments: Rare example of best globe of the period. Light soiling of surface with some discoloration and chipping. 2-1/2" repair to the area of middle east of Persia and Arabia.
Price: Please call for pricing 660-259-4231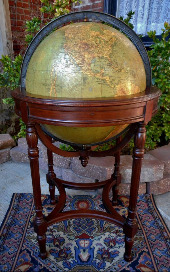 Vintage Taxidermy Grey Goose in Flight
Item #: G3462
Description: Taxidermy grey goose in flight mounted on wooden wall plaque.
Materials: Taxidermy goose. Wooden wall mount.
Dimensions: Wing tip to wing tip: 48". Head to tail: 29".
Locality and Period: Taken by Missouri resident. c.1970.
Comments: Beautiful plumage in excellent condition.
Price: ***SALE*** WAS: $189.00, NOW: $119.00