Antique Primitive Wooden "Firkin" Bucket with Lid & Handle
Item #: G5003
Description: Primitive stave constructed bucket with steel rings, fitted lid and bent wood bail handle.
Materials: Wood bucket, lid & handle. Steel rings.

Dimensions: Height: 9-3/4" (bucket), 11" w/lid. Width: 13". Depth: 13".
Locality and Period: American. c.1890.
Comments: Well constructed bucket with fitted lid and bentwood bail handle.
Price: $195.00



Antique Pair Webster Co. Sterling Silver Hair Brushes
Item #: G2518
Description: Pair oval shaped sterling silver, bristle hair brushes. Sterling handles marked "STERLING" and having the Webster Co. hallmark. Engraved with the initials "A E T" in elegant cursive.
Materials: Sterling silver handles. bristle brush.

Dimensions: Height: 2-3/4". Width: 4-1/2". Depth: 2-1/2".
Locality and Period: North Attleboro, Massachusetts. c.1900.
Comments: Manufactured by Webster Co. in North Attleboro, Massachusetts c.1900.
Price: $59.00 Pair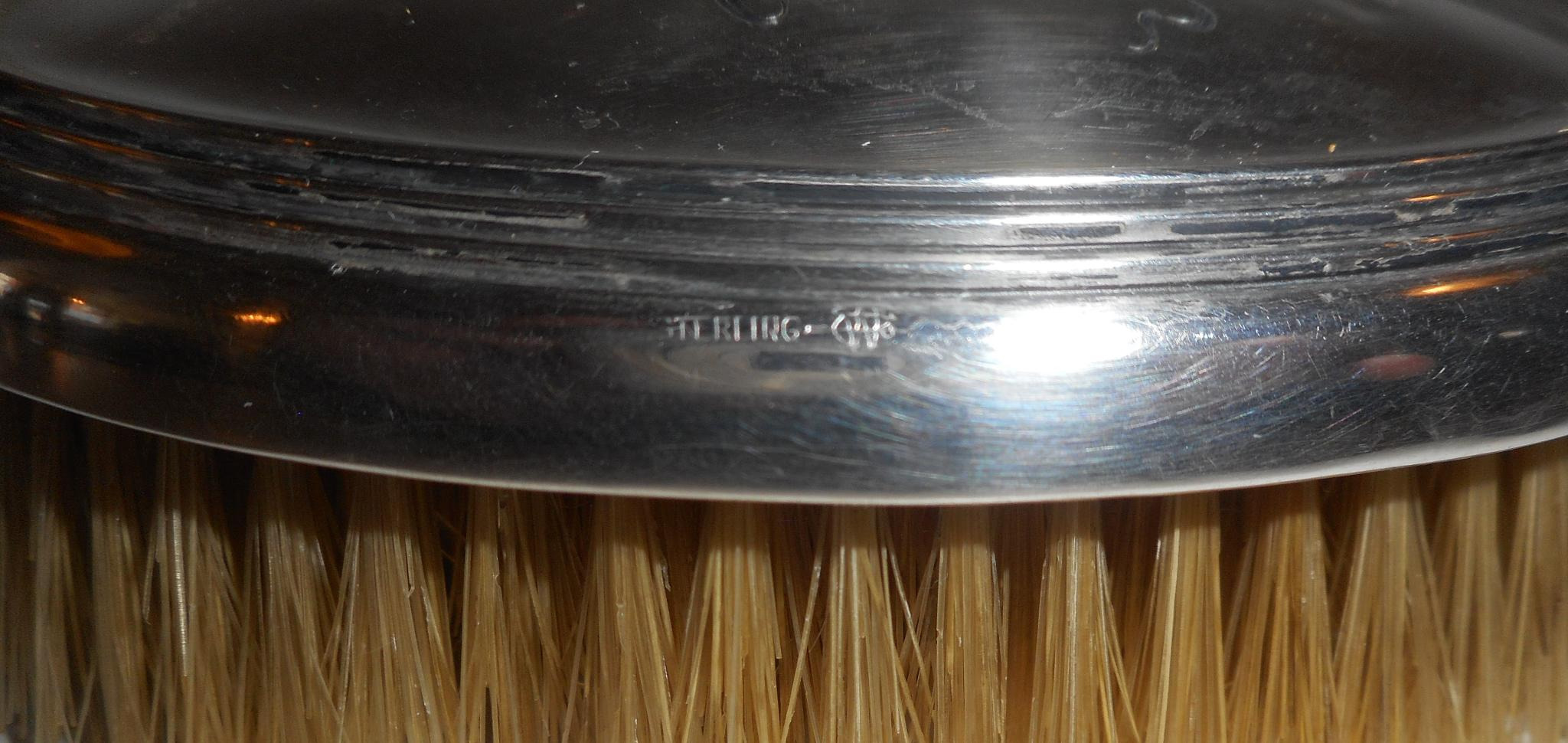 Antique Terra Cotta Maritme Pipe & Match Holder
Item #: G4123
Description: Painted terra cotta pipe and match holder featuring a sailor figure holding his pipe. Pipe holder having a ship motif on front and a tobacco leaf on the reverse. Coiled rope match holder. Anchor and rope on base.
Materials: Painted terra cotta.

Dimensions: Height: 7-1/4". Width: 6". Depth: 6".
Locality and Period: American. c.1900.
Comments: Nice decorative piece of tobacciana. Pipes etc. sold separately.
Price: $89.00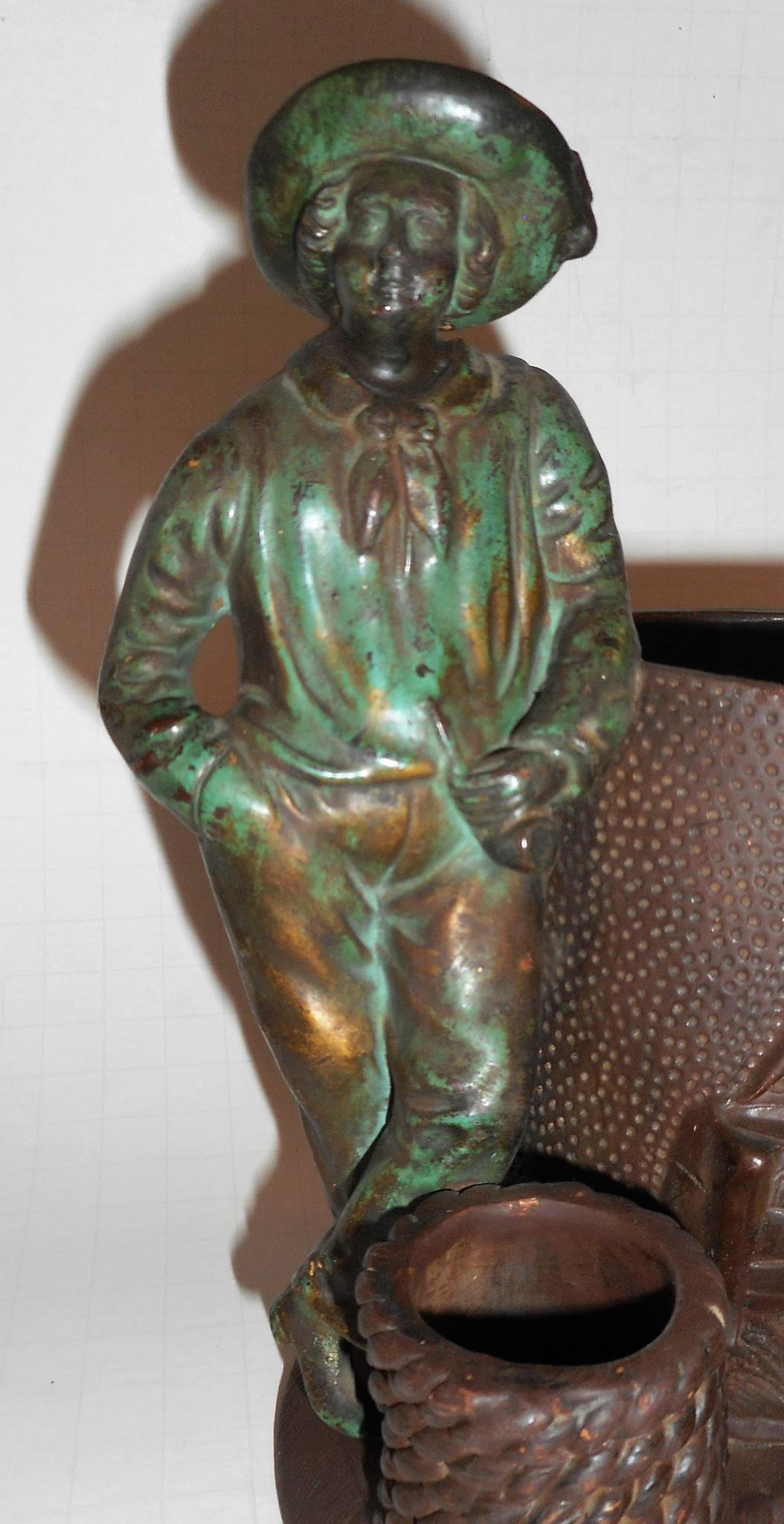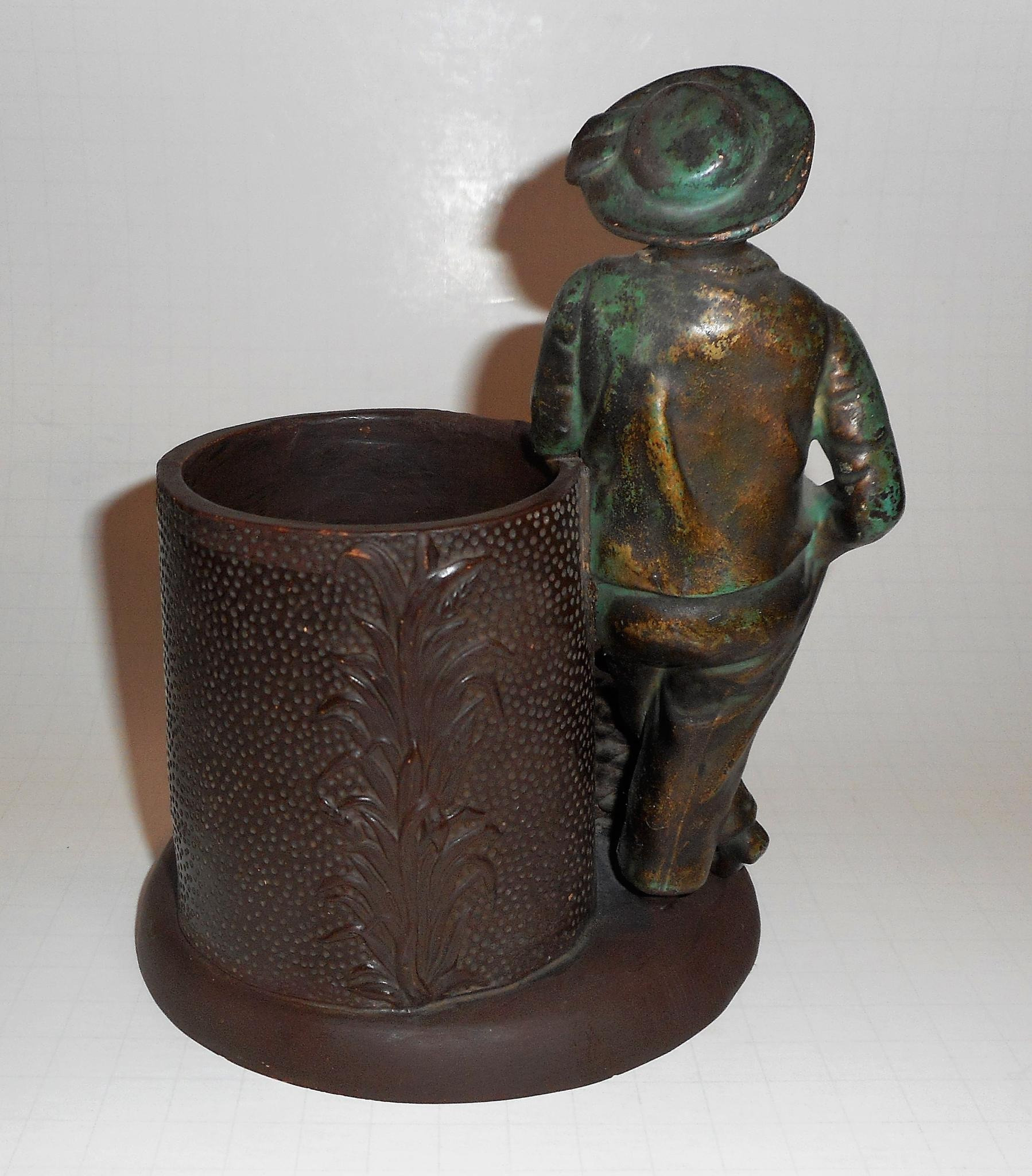 Antique Wooden "Acorn" Butter Mold
Item #: G4576
Description: Turned wooden butter mold with turned handle. Interior carved wooden butter stamp with acorns and leaves.
Materials: Turned wood.

Dimensions: Height: 5". Width: 4-1/2". Depth: 4-1/2".
Locality and Period: American. c.1870-90.
Comments: Used to press freshly churned butter into storage sized molds with decorative stamp on top.
Price: $59.00



1950's "Action Ad" Electric Neon Advertising Clock
Item #: G4986
Description: Wood case electric clock with blue neon framing. Action motion advertising cards flip to display hand-painted polychromatic ads. Electric clock with large numbers. Original paper instruction label on back panel. Metal manufacturer's plate in front case.
Materials: Wood case. Electric clock. Neon light. Cardboard hand-painted ad cards.

Dimensions: Height: 12-1/2". Width: 24". Depth: 7-1/4".
Locality and Period: Chicago. c.1950's.
Comments: Working clock, neon and mechanically flipping advertising cards.
Price: ***SOLD***


Antique Underwood & Underwood "Sun Sculpture" Stereoscope Card Hand-held Viewer
Item #: G2596
Description: Hand held device to hold and view stereoscope cards.
Materials: Metal eye cup. Glass optics. Wood frame & turned handle.

Dimensions: Height: 8". Width: 12-1/2". Depth: 6-7/8".
Locality and Period: New York. c.1901.
Comments: Fancy engraved metal eye cup. Clear optics. Nicely turned handle.
Price: $95.00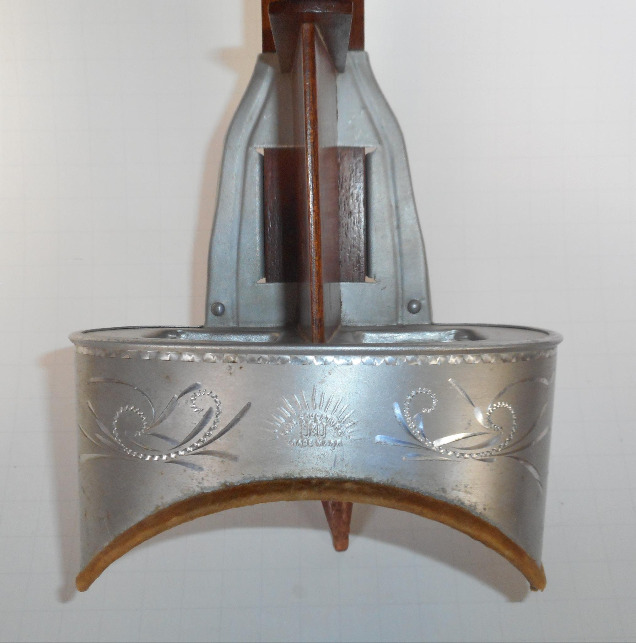 Antique Room Size 13' X 9'-10" Oriental Rug
Item #: G4524
Description: Large, hand woven rug in vibrant blue, red, tan, gold, cream and yellow geometric patterns, edged in deep blue with a beige fringe.
Materials: Dyed wool.
Dimensions: Length: 13'. Width: 9'-10".
Locality and Period: Unknown maker. c.1900,
Comments: Rich colors in vibrant geometric patterns. No condition problems.
Price: ***SALE*** WAS: $695.00 NOW: $500.00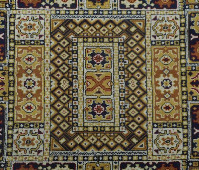 Tall Antique Wood & Cast Iron Coffee Grinder
Item #: G4344
Description: Coffee grinder in wooden box with finger joined corners. Cast iron grinder mechanism with cast iron crank having a hardwood knob. Cast iron side handle. Wood catch drawer below.
Materials: Wood. Cast iron.
Dimensions: Height: 12-1/2". Width: 8". Depth: 7".
Locality and Period: Unknown manufacturer. c.1890.
Comments: Clean working condition for grinding your morning coffee beans.
Price: $105.00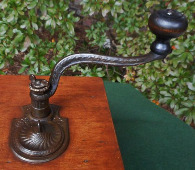 South Bend No.359 Split Bamboo 8-1/2' Fly Fishing Rod
Item #: G4151
Description: 4 piece split bamboo fly fishing rod having 2 tippets (1 repaired). Cork grip with patented "Comficient Grip" and metal reel seat and rings. Patent # 1,931,303 on grip (1933). Cloth sock and metal tube case.
Materials: Split bamboo. Cork grip. Metal ferrules and reel seat.
Dimensions: Length: 8-1/2'.
Locality and Period: South Bend, Indiana. c.1933.
Comments: Nice rod from the "Golden Age" of fly fishing with original protective cloth sock and metal tube case.
Price: $125.00



Weber Costello 18" Globe & Stand Circa 1925
Item #: G3025
Description: 18" world terrestial globe in walnut stand. Coated paper gores by G.W. Bacon & Co. Ltd., over plaster. Oceans in light pea green with ocean currents and analemma. Cast iron full ring merridian laid into cradle in walnut floor stand with horizon ring. Time dial at North Pole. Shows Constantinople (pre-1930) rather than Istanbul. Shows Oslo as capital of Norway (1925 on), but no Central Australia (1926) thus placing date at circa 1925.
Materials: Paper over plaster globe. Walnut floor stand.
Dimensions: Height: 39". Width: 23". Depth: 23".
Locality and Period: Chicago. c.1925.
Comments: Rare example of best globe of the period. Light soiling of surface with some discoloration and chipping. 2-1/2" repair to the area of middle east of Persia and Arabia.
Price: Please call for pricing 660-259-4231